Menu
Officers (2014 -15)
Dr. Tom Willer
President
Bill Schultz
Vice President
Dave Sadler
Secretary/Webmaster
Ed Pieklo
Treasurer
Perforations for

November
2014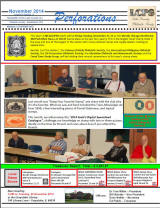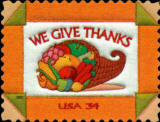 Scott 3456
Welcome
Meetings: FourthTuesday of Each Month (except December):
11:30 am - 13

December

-

Holiday

Brunch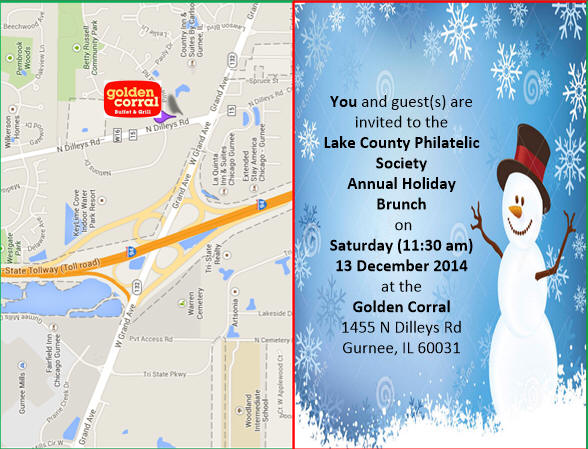 7 pm - 27 January 2015 - Grayslake Library -

Club Elections
7 pm -

17

February 2015

- Grayslake Library
NOTE 3rd Tuesday due to local Township/Village elections on 24th

7 pm - 28 March 2015 - Grayslake Library - Swap/Buy/Sell Night
7 pm - 28 April 2015 - Grayslake Library
Postal Bulletin, Newsletters, Stamp Links, stamp program
Next Meeting:

Annual Holiday

Brunch

Grayslake Area Public Library
100 Library Lane
Grayslake IL
Local Stamp Shows:

Next Two Shows:
MSDA Winter Show
Comfort Inn and Suites
600 Milwaukee Ave
Prospect Heights IL
January 10 and 11, 2015
MSDA Holiday Show West
Lindner Conference Center
610 E Butterfield RD
Lombard IL
December 13 and 14
►Other Illinois Shows
►Other Wisconsin Shows

Notes:
A monthly newsletter, Perforations (to view - click on top image to the left), is sent to each member the week before each meeting as a subtle reminder ...

We're probably among the last of the low dues clubs. Our dues are five dollars per member for a year (but we usually credit that amount towards our annual Holiday Brunch).

---- only four months to the next "Brunch"