Menu
Officers (2018 - 19)
Dr. Tom Willer
President
Bill Schultz
Vice President
Dave Sadler
Secretary/Webmaster
Ed Pieklo
Treasurer
Perforations for
April 2018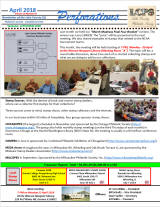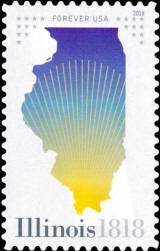 Scott 5274
Forever Illinois Statenood 200th Anniversary
Welcome
Meetings: See below:
--- 2018 ---
7 PM -

Monday 23 April - Warren-Newport Library (Meeting Room "A")
7 PM -

Wednesday 23 May

- Grayslake Library
7 PM - Tuesday 26 June - Grayslake Library (Meeting Room C)
Warren-Newport Library
224 N O'Plaine Rd
Gurnee IL 60031
Next Meeting:
1) A round table discussion about how each of us started collecting stamps and what we are doing to add to our collections

2) Bring items for trade/sale or donation.
Monday - 23 April @ 7 Pm
Local Stamp Shows:

Next Two Shows:
Compex 2018
Guerin College Preparatory
High School
8001 W. Belmont Ave
River Grove IL 60171
June 1-3 (New Location)
MSDA MILWAUKEE STAMP SHOW
Crowne Plaza Milwaukee Airport
6401 South 13th ST
Milwaukee WI
June 30-July 1
Directions
Directions
►Other Illinois Shows
►Other Wisconsin Shows

Notes:
A monthly newsletter, Perforations (to view - click on top image to the left), is sent to each member the week before each meeting as a subtle reminder ...

We're probably among the last of the low dues clubs. Our dues are five dollars per member for a year (but we usually credit that amount towards our annual Holiday Brunch).